Barrister Beagles
Is the joint effort of Betsy Manifold & Dennis Dollar. We are located in Escondido, California, just north of San Diego along the coast. Together, we have owned beagles for over 40 years. In 1999, when Dennis suffered a shoulder injury which ended our weekend golfing hobby, we went to our first dog show.
At our second dog show we saw a puppy named Just-Wright Southpaw ("Lefty") and fell in love with his attitude and the way he moved around the ring. Fortunately, we were in the right place at the right time (or should I say "Wright" place and time), and Lefty became our first show beagle and an important new part of our family. More importantly, Lefty gave us an exciting introduction to dog shows, full of thrilling wins and wonderful new friends. In 2001, Lefty achieved the position of No. 1 Fifteen Inch Beagle!
In 2008, Jazz (BIS and BISS Ch. Jabrwoki's Le Jazz Hot), co-bred and co-owned with Shawn and Bobbie Robblee, not only achieved No. 1 Thirteen Inch Beagle two years running, but gave us our first Best in Shows and won Best of Breed at the 2008 National Beagle Club Specialty Show in Estes Park, Colorado under Judge Dr. Daniel Dowling.  
In 2014 we are proud to present Zsa Zsa -- GCH Torquay Midnight Interlude -- with Bruce and Tara Schultz on the lead.  Zsa Zsa is just starting off her show career, but has already risen to No. 1 Thirteen Inch Beagle.   We will also be introducing two new puppies, King Arthur, HeraBay King Arthur and Nuala, Barrister's Once In A Blue Moon. 
Our many new friends have each gladly shared their knowledge of Beagles with us. One of them presented us with a plaque naming us "Barrister Beagles" and we have been pleased to participate in this great sport under that name. We hope you will enjoy these pages as we share our Beagle experiences with you.
Introducing Zsa Zsa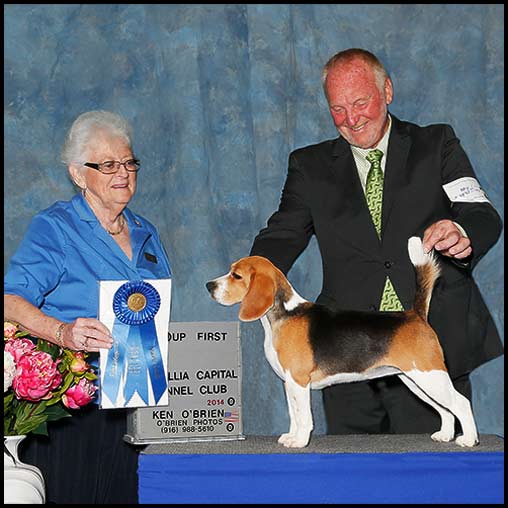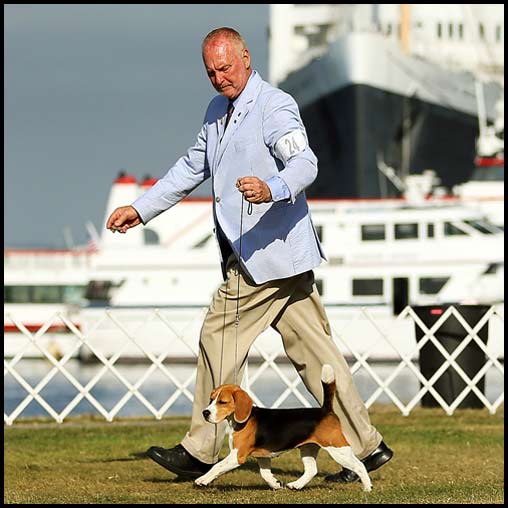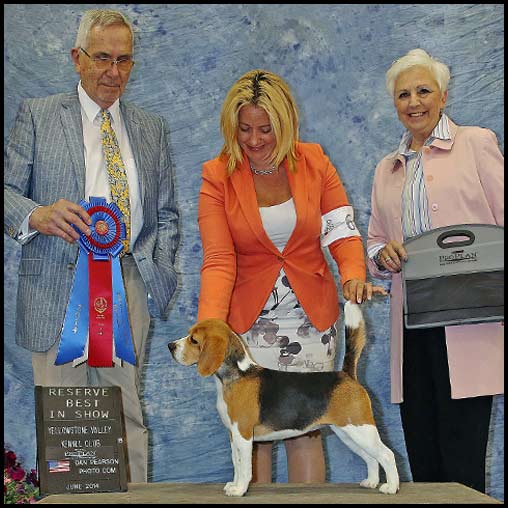 13" GCH Torquay Midnight Interlude